Society of Threads Donates 20,000 Masks to Soles4Souls
When organizations can collaborate together to put their products and services to good use, the results of that partnership can make a truly meaningful impact. And in the year 2020, retail brands have been especially innovative and creative in distributing products to those in need. Recently, Society of Threads, a clothing brand specializing in performance dress shirts, partnered with Clothes4Souls, a division of Soles4Souls, and Macy's, by donating 20,000 masks to be distributed for COVID-19 relief.
"When the pandemic first escalated back in March, our initial intention was to pivot our manufacturing to help with the shortage in supply of PPE that we were facing all across the country at the time. After a few weeks of research without being able to get the info that we needed to proceed quickly, we knew time was of the essence and shifted our focus towards non-medical face masks that we could begin producing immediately," says Terence To, Director of Sales at AW Chang Corporation, the manufacturer of Society of Threads.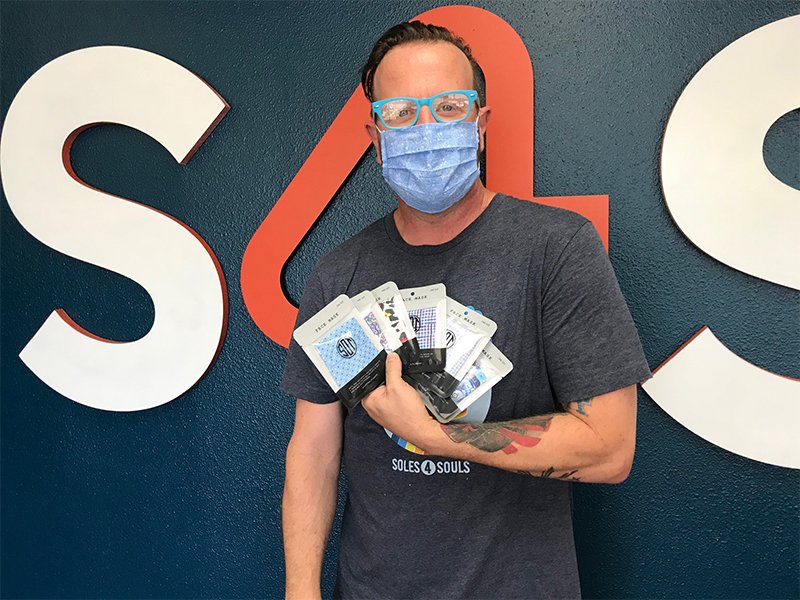 In August, donations started to pour into our Riverside, California warehouse. Since then, the 20,000 masks have been distributed to three organizations: LA Mission, LA Family Housing, and Skidrow Housing Trust.
In Los Angeles County, over 53,000 people are homeless and there has been a 22% increase in those 62 and older experiencing homelessness. For clients of the LA Mission, face masks are critical when many are without shelter or unable to socially distance when resources are available. 
"Some of their housing options [Skidrow Housing Trust] are SRO housing, and they have common areas for showers and other facilities.  Being able to supply clients with masks keeps them safe and encourages them to stay in their housing environment with some security," says Tiffany Turner, Soles4Souls Director of Outreach. 
Face masks are necessary and essential for everyone to have this year due to Covid-19, but for many individuals and families, they are an added expense. This donation from Society of Threads is alleviating that cost for some.
"We feel that as a corporate citizen, we have a responsibility to give back, and we're very glad to be able to support Clothes4Souls and all the communities and people that you help," says To. 
Under the AW Chang Corporation, many of its brands, including Society of Threads, have been involved in other philanthropic projects including supporting schools, animal rescue organizations, and environmental relief. Soles4Souls is proud to partner with a company that values giving back in various ways.
To learn more or partner with Soles4Souls, visit our website here.